Source: cwacanada.ca Arnold Amber, a proud, passionate union leader, respected journalist, and fierce defender of free expression, died on Labour Day in a Toronto hospital with family at his bedside. He was 77. Amber, director of TNG Canada from the time it was created in 1995 until he retired in 2011, shepherded its evolution into CWA Canada, the country's only …
Continue Reading...
Source: https://cwacanada.ca/ OTTAWA  – CWA Canada, the country's only all-media union, is calling on the federal government to ensure that any subsidies for newspapers go to creating journalism jobs, not to executive bonuses or hedge fund lenders. Today, News Media Canada, which represents the country's print media industry, released a proposal calling for the creation of a government-financed Canadian Journalism Fund. …
Continue Reading...
Source:https://cwacanada.ca/ Many years of advocating for a CBC board of directors that's free of partisan political appointments has paid off for CWA Canada's largest Local, the Canadian Media Guild (CMG) and its allies. Heritage Minister Mélanie Joly announced today the creation of an independent advisory committee, whose members are experts drawn from the media industry, to provide a list of …
Continue Reading...
The Halifax Typographical Union and The Chronicle Herald have both withdrawn unfair labour practice complaints related to the year-long work stoppage at the newspaper. The union that represents 55 striking newsroom workers withdrew its complaint today after the Herald agreed to back away from its bad faith bargaining positions. "With the Herald changing its position, we have gained everything that we had …
Continue Reading...
Two CWA Canada Locals have ratified new contracts that contain salary increases for workers at news operations in Ottawa and Medicine Hat, Alta. CTV Ottawa unit members of the Ottawa Newspaper Guild (Local 30205) voted this week to accept a five-year deal that gives them a retroactive lump sum payment for 2014 equal to 1.5 per cent of salary and …
Continue Reading...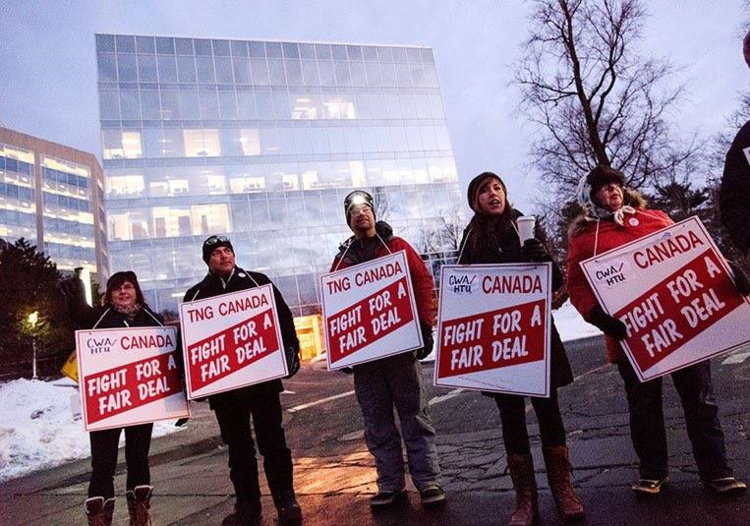 Hello, world! Welcome to the Local Xpress. This is a brand-new online news site brought to you by the 61 striking newsroom and bureau staff of Canada's largest independent daily newspaper. You can read about that here, here and here if you're interested. Since going on strike a week ago, we've missed the work that we do. Remo Zaccagna, who covers municipal politics, went to a …
Continue Reading...
Source: cwa-scacanada.ca President acknowledges for first time that CBC's very existence at risk due to funding cuts Eight years into overseeing a massive and unprecedented downsizing of the CBC — the most ruthless in the public broadcaster's 80-year history, with more than 2,000 or 25 per cent of staff laid off in five years and no end in sight — President Hubert Lacroix now says …
Continue Reading...
Dear fellow CWA Canada members, We're less than a month away from the federal election – an election that will be pivotal to us and to our families as working people and as Canadians. It is vital that we all understand the issues in this campaign so that we can make informed choices. Do we want a government that supports workers, decent …
Continue Reading...