Source: newsguild.org/mediaguild Sept. 6, 2017 – Charges have been dropped against radio reporter Dan Heyman, who was arrested May 9 after he persisted in asking questions of Health and Human Services Secretary Tom Price in a hallway at the West Virginia capitol. "The State has determined, after a careful review of the facts, that Mr. Heyman's conduct, while it may …
Continue Reading...
The 2015-2019 has finally been added to the web site under the documents tab. Click here to read it
Continue Reading...
After months of meetings, discussions, card signings and an official vote conducted by the federal labour board, it was confirmed this week that two thirds of VICE Canada workers chose to join the Canadian Media Guild (CMG). "We are thrilled to welcome employees at VICE Canada" into the Guild, said President Carmel Smyth. "We look forward to working with them …
Continue Reading...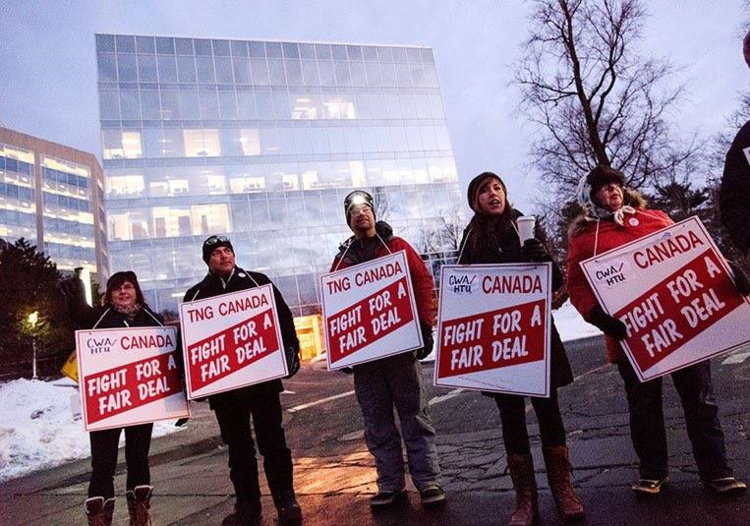 Hello, world! Welcome to the Local Xpress. This is a brand-new online news site brought to you by the 61 striking newsroom and bureau staff of Canada's largest independent daily newspaper. You can read about that here, here and here if you're interested. Since going on strike a week ago, we've missed the work that we do. Remo Zaccagna, who covers municipal politics, went to a …
Continue Reading...
Liberals have promised to repeal bill C-377, which passed Senate in June after bitter battle Source: cbc.ca Click here to read the entire story
Continue Reading...
Source:huffingtonpost.com Labor organizing is sweeping through newsrooms. So who's next? NEW YORK – The staff of the Guardian US voted unanimously Wednesday to unionize under the News Media Guild, an action that comes amid a spate of labor organizing in newsrooms. "The Guardian has a long tradition of supporting union effort," a spokeswoman for the Guardian US chapter of the News …
Continue Reading...
Source:  cbc.ca The Canadian Labour Congress elected a new president for the first time in 15 years at its convention in Montreal on Thursday. Hassan Yussuff defeated incumbent Ken Georgetti by 40 votes — 2,318 compared with 2,278 for Georgetti. There were 29 spoiled ballots in the hotly contested election. Georgetti, who was born in Trail, B.C., was first elected in 1999 and went on to become …
Continue Reading...
Source: thetyee.ca Talks between the company that publishes the Vancouver Sun and Province and the union that represents their workers broke down after two days of negotiations earlier this month over contracting out of the printing of both newspapers. That increases the likelihood of a labour dispute in a year's time over Pacific Newspaper Group's plan to have outside companies handle …
Continue Reading...
Source: j-source.ca Postmedia Network's B.C. papers have suffered a spate of bad news recently—a large number of employees took buyouts from The Province and the Vancouver Sun, and there were rumours the two brands would be merged into one newspaper. Then there was that memo from Pacific News Group president Gordon Fisher that riled many, putting two floors of its building …
Continue Reading...
Source: j-source.ca The union representing Globe and Mail employees said the company must stop pointing the finger at them for its financial struggles. "There is no denying The Globe is struggling, perhaps failing financially. We get it. But a blame-shifting approach won't fix The Globe's very serious problems," said Sue Andrew, unit chair at the Southern Ontario Newsmedia Guild in a memo obtained by Christine Dobby at the Financial Post. "Characterizing Globe employees as having a …
Continue Reading...