MAR 18, 2016 The Regional District of Central Kootenay is calling on the province to make the newspaper industryjoin a provincial recycling stewardship program. However, an industry executive says if they are forced to pay proposed fees, a number of papers would have to shut down to meet the costs. "We simply can not afford the millions of dollars this would cost the newspaper industry," John Hinds, the CEO ofNewspapers Canada, an industry group, told the Star. "It would put a significant number of newspapers at risk if wewere forced to pay the Multi-Material BC (MMBC) fees as they stand. Look at what happened in Nanaimo andKamloops [where newspapers recently closed]. Look at what is happening around the country." The RDCK board passed a motion in February to urge BC's environment minister to pressure the industry to complywith regulations that require producers of paper and packaging to pay for the recycling of their products. MMBC is the non-profit stewardship organization tasked with getting BC industries, rather than taxpayers, to pay forrecycling the paper and packaging it produces. MMBC collects, processes, and sells recycled material, and about 1,300producers of paper and packaging in BC pay them to do this. (MMBC collects Nelson's recycling, but it's not noticeablebecause the organization contracts the work to the city.) READ MORE
Continue Reading...
Source: thewalrus.ca Read to the entire story click here MY POSTMEDIA CAREER began September 2013 with a tour of the Edmonton Journal's downtown office. Stephanie Coombs, the managing editor of the historic city newspaper, led me through the empty first floor; where the once-mighty department for the classifieds once resided, now occupied by two clerks at a front counter. We wandered through …
Continue Reading...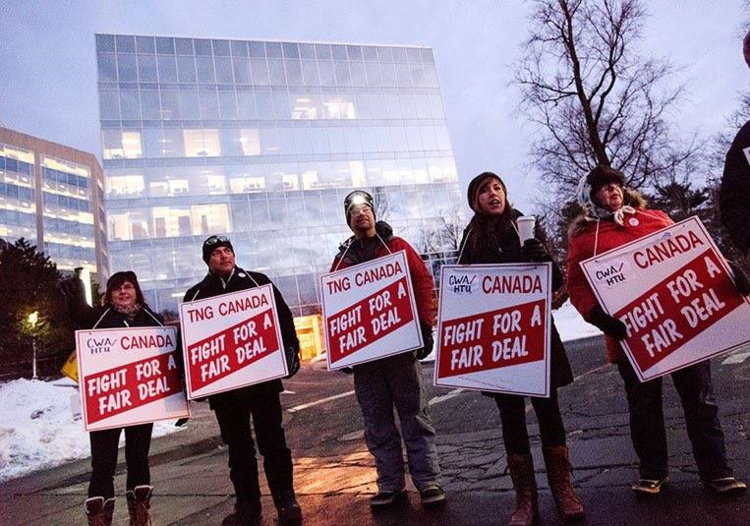 Hello, world! Welcome to the Local Xpress. This is a brand-new online news site brought to you by the 61 striking newsroom and bureau staff of Canada's largest independent daily newspaper. You can read about that here, here and here if you're interested. Since going on strike a week ago, we've missed the work that we do. Remo Zaccagna, who covers municipal politics, went to a …
Continue Reading...
Source: times colonist.com The Nanaimo Daily News will stop publishing next week, ending 141 years in business. See more at: http://www.timescolonist.com/
Continue Reading...
Email offers 'full time contracts of up to four months,' work from home without bylines Source:cbc.ca Please click here to read story
Continue Reading...
Source: pewresearch.com Click to read entire story here This weekend, Boston Globe editorial employees received an unusual request: Could anyone run a paper route? Due to problems with the paper's new distributor, some home subscribers had not received their print editions. About 200 Globe workers responded to the call, and hand-delivered copies to local residents. Although the paper announced Tuesday that it was returning to its …
Continue Reading...
Source: timescoloinst.com We usually run columns by Jack Knox — such as the great one on Thursday's front page — but we don't often write about Jack Knox. Today, we are making an exception. Knox was named British Columbia's commentator of the year at the annual Jack Webster awards dinner in Vancouver on Wednesday night. – See more at: timesclonist.com
Continue Reading...
Source: editorandpublisher.com by: Alan D. Mutter Newspapers are so bad at digital publishing that they should just give up and focus on print. That's the bracing thesis of a recently published mini-book from journalism professor H. Iris Chyi of the University of Texas, who likens what she calls the "inferior quality" of online newspaper offerings to the ramen noodles gobbled …
Continue Reading...
Source: j-source.ca Staff at the Alberni Valley Times were told on Sept 30 that the paper would close in 60 days. By H.G. Watson, Associate Editor The Alberni Valley Times will close by the end of 2015. On Sept. 30, parent company Black Press gave staff 60 days' notice that the paper will close. The Alberni Valley Times serves a community …
Continue Reading...
Source: nytimes.com LOS ANGELES — In January, Jack Griffin, the chief executive of Tribune Publishing Company, took his senior management team to visit The Los Angeles Times, the jewel in his company's portfolio of newspapers. At a reception at the newspaper, and a dinner downtown, there was one notable absentee — The Times's new publisher, Austin Beutner. At meetings the next day, …
Continue Reading...