ARCHIVED POSTS FROM OLD WEB SITE
Victoria Joint Council of Newspaper Unions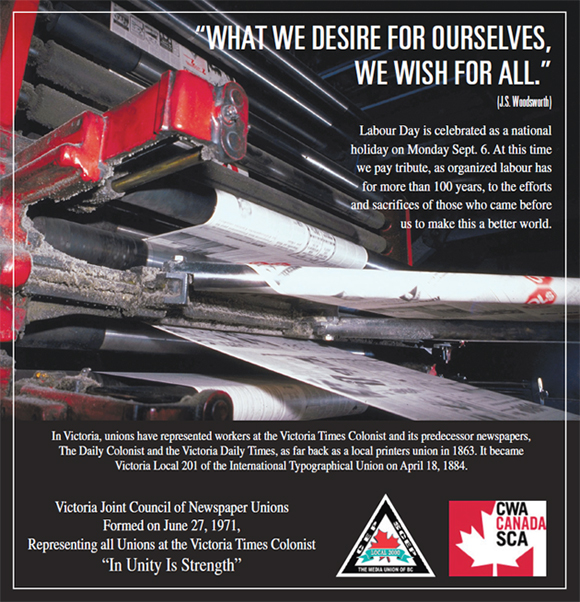 Investigative Shortfall   
By Mary Walton   
Article Source: ajr.org/ 
Many news outlets are doing far less accountability reporting than in the past, bad news indeed for the public. New nonprofit investigative ventures have emerged, but they can't pick up the slack by themselves. 
---
Analyst: Paywall Subscribers Worth A Quarter Of Print Readers
Wednesday, September 02, 2010
Even if newspapers migrate every print reader to paying online, they will still face big losses, according to one analyst. 
 Annual income per paywall subscriber on TheTimes.co.uk and WSJ.com is just a quarter that from subscribers to UK quality dailies' print editions, Enders Analysis' Benedict Evans observes in a new note. 
Switching off the presses, after a hypothetical future print-to-digital tipping point, might save newspapers 25 percent of their total costs—but this is not enough to make up the gap from the smaller online income, Evans says. 
 Even adding iPad income to web paywall revenue would only total half the income newspapers are currently making from print. 
 This is essentially the quandary of trading physical dollars for digital dimes. Publishers like Rupert Murdoch may be starting to conceive of a time, at least in theory, when paid tablet and web editions become popular enough to consider switching off print… 
 The problem with that, these numbers would suggest—even if all digital readers pay, publishers may need to double annual income per online customer to get there (ie. hike TheTimes.co.uk from £2 to £4 a week, and the iPad edition from £9.99 a month to £19.99). 
 How's this for a corollary?—If that sounds bad, imagine the situation for publishers whose websites are not starting charging. 
 But at least those refuseniks can hold on to existing advertising, which an increasing number of them are considering to be sub-scale all the same… 
 One ad buyer from media agency MEC tells Independent.co.uk that advertisers have responded negatively to TheTimes.co.uk's paywall: "We are just not advertising on it. If there's no traffic on there, there's no point in advertising on there. Online, we have far more options than just newspaper websites – it's not a huge loss to anyone really. If we are considering using some newspaper websites, The Times is just not in consideration." 
 Newspapers have faced a similar problem before, Evans says – to counter print circulation decline, publishers have added 20 percent more pages in the last decade, allowing the quality dailies to drive up cover prices by 112 percent in real terms. 
 "But inflating the paper will no longer work: deflation is now the agenda," Enders' Evans says, noting recent newsroom downsizing. "What would a great newspaper with 200 journalists look like? Delane ran The Times as 'The Thunderer' with 16 pages – a deeply unfair comparison, but perhaps a relevant one." 
 Separate recent estimates by myself and by University of Central Lancashire journalism researcher Francois Nel had both found TheTimes.co.uk's paid strategy could significantly reduce Times Newspapers' losses, but not entirely. 
Local news rivals doom publisher pay walls Alan Mutter
Monday, August 30, 2010
Reflections of a Newsosaur
source: http://newsosaur.blogspot.com/Musings (and occasional urgent warnings) of a veteran media executive, who fears our news-gathering companies are stumbling to extinction 
The local news sites being developed by Yahoo, AOL, Huffington Post and a growing number of other online players will dash the hopes of most newspaper publishers of charging for access to their online content.While newspaper executives have agonized for the better part of two years about whether and how to charge for their costly-to-produce content, every indication is that the portals, local broadcasters and other media companies have no intention of asking anyone to pay for access to the increasingly ambitious local sites they are building. 
With a fast-proliferating number of respectable local sites giving away news to build traffic for their ad-supported ventures, newspapers simply won't be able to charge for access – especially when their own stories are likely to become freely available within minutes at any number of competing sites. 
The local news land rush gained a formidable entrant last week when it became clear that Yahoo is getting ready to launch a major local news site in San Francisco. As reported first here and here, Yahoo spent some $90 million to acquire Associated Content to begin filling its local sites with tons of inexpensively produced content. 
Yahoo joins such up-and-running efforts as AOL's Patch.Com, MSNBC's Everyblock.Com, Huffington Post (example: HuffPost-New York), and the ever-more-elaborate local sites operated by television and radio broadcasters (example: NBC Philadelphia). 
This is not to mention the hundreds of local sites operated by individuals (West Seattle Blog), funded by philanthropists (MinnPost) and backed by venture dollars (Outside.In). In the San Francisco area alone, the Graduate School of Journalism at the University of California at Berkeley has identified more than 250 local sites. 
Even the juiciest scoop published by a paper in print or online will not remain exclusive for long. It will take only minutes for a heads-up local news venture to match any story appearing in the local newspaper. The "QuickRead" technique developed by the Huffington Post is but one example of the how easily content can be cribbed: 
A Denver Post story about accusations of racial profiling by police was featured prominently yesterday on the HuffPost's Denver page. A click on the story led to a one-paragraph summary of the article and a link to the original piece (see screen grab below). For many readers, the HuffPost summary would be sufficient, thus depriving the Post of the traffic it otherwise might have earned. 
Beyond matching newspaper stories, AOL and Yahoo intend to leverage citizen journalists to fill their sites with inexpensively produced original content. In its initial email effort to recruit writers in San Francisco, Associated Content promised $10 for the first article. 
Armies of low-paid writers Patch-ing together copy like this yarn about a federal raid on the office of a Connecticut foot doctor likely will provide enough free local content in many major markets to satisfy all but the most voracious and discerning news consumers. 
With newspaper advertising revenues this year on track to come in at less than half the record $49.4 billion achieved in 2005, publishers have been toying with the idea for quite some time of charging for access to their websites. 
Given that all but the most parsimonious newspaper pays more than $10 per story, you can't blame publishers for wanting to recover the costs of creating content by charging for the online news that most of them have been giving away for free for 1½ decades. 
However, the few brave publishers who have tried to charge for content have met with less than encouraging results. 
Newsday famously got only 35 takers when it initially imposed a fee to visit its site (but it did not care, because it still provides free access to subscribers of the newspaper and the Internet service provided by its owner, Cablevision Systems).
 
The Valley Morning Star in Harlingen, TX, lost nearly half of its web traffic when it started charging for content in July, 2009, according to statistics published at Quantcast.Com. Although the paper resumed free web access in April of this year, its traffic only recently recovered. 
Combine consistently demonstrated consumer resistance to pay with a plethora of plausible free alternatives and there can be little doubt that charging for day-to-day news coverage – even sparkling local coverage – is not likely to be a fruitful path for most general-interest newspapers. 
Instead of putting cycles into exercises like charging for access to obituaries, publishers need to focus their marketing power, content-creating resources and ad-selling capabilities on developing unique print, web and mobile products that will be valued by consumers and advertisers alike. 
For anyone other than publishers of mission-critical business or government news like the Wall Street Journal and possibly the New York Times, pay walls will not fly. It is time for everyone else to move on to more productive pursuits.
 
---
Philly Deal in Jeopardy as Pressmen Reject Contract
By: E&P Staff Published: August 31, 2010
Source:http:editorandpublisher.comNEW YORK 
The prospective new owners of The Philadelphia Inquirer and the Philadelphia Daily News saw continued pushback from some of the newspapers' unions Monday as a second group of employees voted Monday against a new labor contract.
The newspapers' pressmen, represented by a Teamsters local, voted 74-9 to reject the offer, the Philadelphia Inquirer reported Tuesday. The thumbs-down on that proposal follows Inquirer and Philadelphia Daily News machinists' rejection on Sunday of a separate contract offer.
Philadelphia Media Network Inc., which purchased the Inquirer, the Daily News, and Philly.com at a bankruptcy auction in April for $139 million, had planned to finalize its purchase of the media outlets Tuesday, when it is scheduled to emerge from bankruptcy. But if the potential new owners cannot reach contracts with all the unions — nine of which have already approved new terms —the purchase agreement allows the new ownership to walk away from the deal.
The Inquirer reported that attorneys from the two papers' previous ownership and executives for Philadelphia Media Network and their lawyers had a three-hour meeting Monday with Chief Bankruptcy Judge Stephen Raslavich. Following that meeting, none of the participants would speak to the press.
The parties are scheduled appear before Raslavich at 1 p.m. Tuesday.
A contingent of labor leaders with the machinists also took part in the talks, the Inquirer reported, and after the meeting said they were still without a contract. 
---
Conrad Black Case Targets Net Defamation Standards
Courts ponder where it's right to try suits, given Web is global. 
Source: By Michael Geist, Today, TheTyee.ca 
Conrad Black's ongoing legal fight in the United States has attracted considerable attention in Canada, yet there is a side courtroom battle at home over alleged defamatory content on the Internet that merits closer attention. The case, named Black v. Breeden, involves postings such as press releases and reports on the Hollinger International, Inc. website that Black claims were defamatory. Several Ontario media organizations published the allegations contained in those releases. 
When Black sued the company's directors, advisers and one company employee for defamation, the defendants in the case brought a motion to dismiss on jurisdictional grounds, arguing that Ontario was not the appropriate venue for the case since both Hollinger and Black are located in the U.S. After a judge dismissed the motion, the defendants appealed to the Ontario Court of Appeal. 
In a unanimous decision this month, the appellate court upheld the ruling by the motions judge, concluding that Ontario was a suitable venue and that the defamation case could proceed. 
Targeting an audience? 
Linkages between defamation and jurisdictional questions are not unusual, however, a novel issue before the court was how to treat content posted on the Internet that is accessible to a global audience. The starting point for jurisdictional analysis in Canada is the real and substantial connection test in which courts consider whether the connection is sufficient to merit asserting jurisdiction over the dispute. 
In this case, the court was urged to base its analysis on a "targeting test" (the defendants relied in part on a law review article I wrote in 2001 advocating the adoption of a targeting-based analysis) that would involve considering whether the postings targeted the forum rather than looking at where they were downloaded and read. 
The targeting test posits that courts should not assert jurisdiction over online content merely because it is accessible. Rather, there should be evidence that the site actively targeted an audience within the jurisdiction. The criteria for determining targeting remains elusive, but courts have referred to the language and content of the site, terms and conditions posted on the site, as well as awareness that the site's content may have an effect within the jurisdiction. 
While the court concluded that it did not need to formally decide whether to adopt the targeting test, it was satisfied that the statements were in fact targeted at Ontario. It noted that the press releases posted on the Internet specifically provided contact information for Canadian media and that the company "clearly anticipated that the statements would be read by a Canadian audience and invited Canadian media to respond." 
Can just downloading defame? 
Interestingly, the defendants also raised an alternate argument, asking the court to establish a new exception to the real and substantial connection test for the Internet. They argued that downloading the offending content was effectively the "completion" of the defamation. Given the possibility of downloads in multiple jurisdictions, the defendants argued that many places could theoretically assert jurisdiction, leading to widespread legal uncertainty. 
The court rejected the argument, concluding that judges were perfectly capable of sorting through the issues and ensuring fairness for both sides. In doing so, it allowed the Black defamation suit to proceed while also providing Internet users and the legal community with greater insight into when Canadian courts will assert jurisdiction over defamation that occurs online. 
---
Not on His Watch, USA Today Founder SaysAugust 30, 2010,
11:36 am
By
JEREMY W. PETERS
Source: read entire story here 
Seven Reasons Print Will Make a
Comeback in 2011Print can still play an important role in your overall content marketing mix.By Joe Pulizzi
08/23/2010 -14:13 PM
Source: foliomag.com/ 
Okay…there, I said it.
You'll find no greater supporter of online content marketing than me, but marketers and agencies are talking up print for 2011. Yes, in the era or iPads and Apps, there is still a role for print.
Jeff Jarvis recently wrote about how media companies need to ignore print. 
"The physical costs of production and distribution are killing. The marketing cost of subscriber acquisition and churn are hellish." 
He's right.  And if you are a media company that relies on most of your revenue for print, you need to post Jeff's article on your forehead.
But if you are a corporate marketer, there is an opportunity here. Here's why:
1. Getting Attention: Have you noticed how many less magazines and print newsletters you are getting in the mail these days? I don't know about you, but I definitely pay more attention to my print mail.  There's just less mail, so more attention is paid to each piece. Opportunity? Less traditional publishers are printing magazines today, which leaves opportunities for content marketers.
2. The Focus on Customer Retention: In a soon-to-be-released research study conducted by Junta42 and MarketingProfs, customer retention was the most important goal for marketers when it came to content marketing outside of basic brand awareness.  Historically, the reason why custom print magazines and newsletters were developed by brands was for customer retention purposes.  We have a winner!
3. No Audience Development Costs: Publishers expend huge amounts of time and money qualifying subscribers to send out their magazines. Many times, publishers need to invest multiple dollars per subscriber per year for auditing purposes (They send direct mail, they call, they call again so that the magazine can say they that their subscribers have requested the magazine. This is true for controlled (free) trade magazines).  
So, let's say, a publisher's cost per subscriber per year is $2 and their distribution is one hundred thousand.  That's $200,000 per year for audience development.  
That's a cost that marketers don't have to worry about.  If marketers want to distribute a magazine to their customers, they just use their customer mailing list. That's a big advantage.
4. What's Old Is New Again: Social media, online content and iPad applications are all part of the marketing mix today. Still, what excites marketers and media buyers is what IS NOT being done.  They want to do something different…something new. It's hard to believe, but I've heard many marketers talk about leveraging print as something new in their marketing mix. Unbelievable.

5. Customers Still Need to Ask Questions: We love the Internet because buyers can find answers to almost anything. But where do we go to think about what questions we should be asking? I talked to a publisher last week who said this: 
"The web is where we go to get answers but print is where we go to ask questions." 
The print vehicle is still the best medium on the planet for thinking outside the box and asking yourself tough questions based on what you read. It's lean back versus lean forward. If you want to challenge your customers (like Harvard Business Review does), print is a viable option.

6. Print Still Excites People: I talked to a journalist recently who said it's harder and harder to get people to agree to an interview for an online story.  But mention that it will be a printed feature and executives rearrange their schedule. The printed word is still perceived as more credible to many people than anything on the web. It goes to the old adage, "If someone invested enough to print and mail it, it must be important."
Whether that's true or not, that is still a widely-held perception.
7. Unplug: More and more people are actively choosing the unplug, or disconnect themselves from digital media. I'm doing this more myself. I'm finding myself turning off my phone and email more to engage with printed material.  A year ago I didn't see this coming.  Today, I relish the opportunities when I can't be reached for comment.
If I'm right, many of your customers (especially busy executives) are feeling the same. Your print communication may be just what they need.  
Online content marketing is definitely here to stay.  Yes to social media, apps and the rest of it.  But don't forget that print can still play an important role in your overall content marketing mix.
[EDITOR'S NOTE: You can read more of Joe at his blog.] 
---
In a World of Online News,
Burnout Starts Younger
Source:nytimes 
---
Canwest Q3 earnings rebound
Source:financialpost.com 
---
Union hopes new owners of Canwest papers see value in good journalism
July 13, 2010 / OTTAWA — With the Canwest newspapers emerging today from creditor protection as Postmedia Network Inc., CWA Canada is keen to impress on the new owners how important quality journalism is to the chain's future. 
 "All the major Postmedia Networkt papers are making money," says Director Arnold Amber. "We are relieved to be out of the danger zones of bankruptcy protection. The hope is that the new owners don't get tied up in the kind of financial difficulty that Canwest did."" 
 CWA Canada represents more than 800 workers at five of the metro dailies, including The Ottawa Citizen, The Gazette in Montreal, the Victoria Times-Colonist, Regina Leader-Post and Windsor Star. 
 "Our members have borne the brunt of the budgetary slashing that ensued when the Asper family made its futile attempt to rescue the debt-laden company," says Amber, who heads the Canadian region of the largest media union in North America. 
 "We'd like to think the new owners understand that good journalism is the key factor in the profitability of these venerable newspapers." 
Paul Godfrey, who will be CEO and frontman of Postmedia, has made it clear that he sees the future as being digital. 
 But Amber warns that Godfrey "has to keep in mind that producing quality online content requires good journalism. Nor can the Internet compete with the professional local coverage these papers provide, which is not available elsewhere." 
 mber says the union will be seeking a meeting with Godfrey as soon as possible to discuss plans for the chain. 
---
New report aims to put journalism unions 'in touch' with industry's future
Source:journalism.co.uk/ 
---
Can Anyone Replace the Local Beat Reporter?
Source: theatlantic.com 
Read entire story hereDo Canada's Newspapers Have a Future?
Canwest's buyers must reinvest in readers to survive. And we must radically rethink how our media is bought and sold.
Source:.thetyee.ca/ 
---
New CanWest owners share Sun connectionFormer junk bond manager leads creditor groupSource:.
thestar.com
---
With a salesman's touch, Paul Godfrey claims CanWest
Source:.theglobeandmail.com/ 
---
Six union members nominated for prestigious journalism award, another wins fellowship
29 April 2010 
Source: cwa-scacanada.ca/ 
Six members of CWA Canada are in the running to claim the country's most prestigious award in journalism. 
The Victoria Times Colonist and The Gazette in Montreal are two of the six news media finalists for the 2009 Michener Award for meritorious public service journalism. The winner will be announced on May 27 in a ceremony at Rideau Hall hosted by Governor General Michaëlle Jean. 
Julie Ireton, who has already been declared the winner of the Michener-Deacon Fellowship, is the business and technology reporter in the CBC Parliamentary Bureau and a member of the union's largest Local, the Canadian Media Guild. The fellowship will enable Ireton to pursue an investigation entitled, The Federal Public Service: Middle-men, Double-Dipping and Cronyism. 
Reporter Linda Gyulai, a member of the Montreal Newspaper Guild, earned the Gazette's nomination with her series of articles examining the city's $355.8-million water-meter project, the largest contract in its history. Gyulai determined that major elements of the project were altered against the city's interest days before the contract was closed. After the auditor general confirmed the Gazette's findings, the contract was killed and two top city officials were fired. 
In Victoria, a February 2009 series of stories and photos depicting the deplorable condition of aboriginal housing on Vancouver Island revealed overcrowding, shoddy construction and threats to health on reserves. Following the publication of the articles, the federal government pledged $50 million for native housing. B.C. Premier Gordon Campbell also announced that the province would take action to connect reserves with off-reserve water and sewage systems. 
A team of newsroom staff, including reporters Judith Lavoie and Lindsay Kines, and photographers Debra Brash, Adrian Lam and Bruce Stotesbury, who are members of the Victoria-Vancouver Island Newspaper Guild, worked on the week-long series which examined how government policies, poor construction and a lack of oversight have contributed to the sorry state of reserve housing. 
"For a small newsroom like ours, the nomination is particularly welcome," said Lucinda Chodan, editor-in-chief of the Times Colonist. "It validates the high-quality work our journalists do every day." 
The series was also a finalist for the 2009 Jack Webster Awards, which honour the best in B.C. journalism. 
The Michener Award was founded in 1970 by the late Roland Michener, former governor general. 
---
More Upbeat News: Moody's Removes Negative Outlook on Newspapers
Source: editorandpublisher.com
By Mark Fitzgerald
Published: April 16, 2010
 
CHICAGO Moody's Investors Service — the big credit agency firm that over the past 18 months cut its ratings of nearly all newspaper publisher to junk levels — said Friday it had changed its sector outlook for U.S. newspapers to stable, from negative.
Moody's said it expects newspaper advertising to recover well by the start of 2011, but cautioned that it still believes the industry faces long-term problems that might result in another negative outlook. And ratings upgrades for individual companies are not a given, the firm said.
"The change to a stable outlook reflects Moody's expectation that a
cyclical recovery in advertising spending will moderate newspaper revenue declines as 2010 progresses and lead to a more stable revenue environment in 2011," senior analyst John E. Puchalla
wrote in a note to investors. "Moody's anticipates that newspaper advertising revenue will decline in an 5% to 10% range in 2010, but that revenue should be closer to flat toward the end of the year and in a -3% to +2% range in 2011."
Moody's said newspapers will benefit from improving advertising revenue as the economic recovers — but will "likely continue to lose share" to other media.
"Moreover, the longer-term pressure from advertiser shifts in spending to other media and to online channels along with pricing pressure — in classified categories in particular — will likely prompt a return to a negative sector outlook once the benefit from the cyclical snapback in advertising subsides," Puchalla wrote.
Newspapers remain too indebted, Puchalla added: "Moody's continues to believe the industry cannot tolerate much leverage given the longer-term secular pressures and high sensitivity to economic cycles."
Moody's said newspaper access to capital has "improved meaningfully," but the industry remains particularly vulnerable to "negative shifts in investor sentiment that could impede or raise the cost of funding maturities over the next 2-4 years."
 
---
Newspaper Guild-CWA calls on President Obama to investigate killings
Source: newsguild.org/ 
09 Apr 2010 
The Newspaper Guild 
After the release of a government-suppressed video of the shooting deaths of more than a dozen Iraqis, including a Reuters photographer and his assistant, the executive council of The Newspaper Guild-CWA calls on President Barack Obama to order an independent investigation of the circumstances surrounding such killings. The Guild represents more than 400 journalists and other employees at Reuters. 
The 17-minute clip, posted by WikiLeaks.org on Monday, April 5,  includes footage of Apache helicopters opening fire on several people as they stand and walk along a Baghdad street, along with audio of the pilots' conversation. Among those killed in the 2007 incident were photographer Namir Noor-Eldeen, 22, and his assistant, Saeed Chmagh, 40. Other casualties included two children, plainly visible in a window of a van that was shot after it stopped to assist the wounded. A military investigation, however,  concluded that U.S. forces had acted properly and no disciplinary action was taken. 
"The video is shocking in its display of a callous disregard for human life," said Guild President Bernie Lunzer. "The 17-minute video shows no Iraqi provocation or evidence that U.S. forces came under fire. The Pentagon has claimed otherwise. The American people deserve to know the truth, and the U.S. military's role should be fully investigated."  
The International Federation of Journalists, whose affiliates include the Guild and journalists' groups in 150 countries around the world, echoes the Guild's call for a proper inquiry, noting that the government's investigations to date appear to have placed a primary emphasis on exonerating military personnel. The IFJ said it has catalogued 19 cases since March, 2003 in which journalists and media staff have died at the hands of U.S. soldiers. "In all of these cases, families and friends of the killed journalists continue to wait for credible investigations and honest reports about how and why their loved ones died," the IFJ noted. 
The Guild's Executive Council cited the Obama administration's promise of greater transparency and its avowed commitment to human rights as reasons to hope that a full accounting finally may be at hand. 
---
Union tracking former Hollinger employees
to safeguard benefits, pensions
Conrad Black's holding company in bankruptcy protection;
future uncertain for Southam, Thomson, Sterling retirees
Source cwa-scacanada.ca/ 
CWA Canada is enlisting the help of Locals across the country in its search for former or retired members who worked for a newspaper in the Southam, Thomson, Sterling or Hollinger chains. 
More than 3,000 former employees of Hollinger Canadian Publishing Holdings (HCPH) have to be tracked down by a Toronto law firm that is representing their interests in bankruptcy court proceedings involving their benefit and pension plans.
Arnold Amber, director of CWA Canada, says the national union is working with Koskie Minsky LLP to protect the rights and livelihoods of former and retired members who worked at any of the newspapers purchased by media baron Conrad Black. They include major dailies such as the Vancouver Sun, Edmonton Journal, Ottawa Citizen and The Gazette in Montreal. 
HCPH, which sold off those newspapers and is now essentially an empty shell, was recently granted an extension of its bankruptcy protection to April 15 to restructure an assortment of benefit and pension plans. 
Ernst & Young, appointed by an Ontario Superior Court judge to oversee the restructuring under the Companies' Creditors Arrangement Act (CCAA), reported that HCPH administers two unfunded retirement plans, other post-employment benefit plans and six registered pension plans. 
The accounting firm, in a letter to retirees just before Christmas, said all pension and benefit payments were continuing in their normal course. 
Amber says there is a "general belief that the main Hollinger pension plan is in good shape and has enough funds to meet all its ongoing commitments. But there are other smaller Hollinger pension plans that might not be adequately funded. They are the HCPH pension plan for employees of newspapers formerly owned by Thomson, two other plans for employees of Sterling newspapers and the Journal Publishing Employees' Pension Fund." 
CWA Canada will be following the court proceedings closely, says Amber. "We want to make sure everything is being done to protect our former members, but we also have concerns about the health benefits our retirees may get in the future. They could be reduced or, even worse, eliminated." 
Koskie Minsky will deal with any issues that affect post-employment and post-retirement benefits, other than registered pension plan benefits. The law firm has set up a web page for HCPH retirees which it will update as information becomes available. 
"Pension benefits from the registered pension plans are a separate issue from health benefits and supplemental pension benefits," the law firm explains on the web page. "We are advised that the pension fund of the registered pension plans is part of a trust fund which continues to operate even though HCPH filed for CCAA protection. We have been advised that the company is currently obtaining an updated actuarial valuation of the registered pension plans to determine the funded status of the pension plans. We will be provided with that valuation when it is complete and will report further to all retirees at that time." 
---
Does Journalism exist?
---
After Three Months, Only 35 Subscriptions for Newsday's Web Site
Source: observer.com 
---
Local retirees caught in Hollinger CCAA filing
Source: CEP 2000 
Some retired former Local 2000 members may be adversely affected by the restructuring of Hollinger Canadian Publishing Holdings Co. that is currently underway. 
Based on documents filed with the Ontario Court of Justice as part of an application under the Companies Creditors' Arrangement Act (CCAA), it appears that some Medical Service Plan and other payments for medical benefits paid on behalf of Local 2000 retirees by Hollinger Canada could eventually be reduced or eliminated. 
Any former Local 2000 member who receives a pension through the Hollinger Canadian Publishing Co. Retirement Plan can take comfort from the healthy financial shape of that plan. It is fully funded. 
It is also important to note that the PNG pension plan is healthy and not affected by the Hollinger CCAA filing or Canwest's current financial problems. The PNG plan is a standalone entity that is jointly administered by the trustees appointed by Local 2000 and the company. 
However four smaller Hollinger Canada pension plans have significant unfunded liabilities. These are: 
The Hollinger Canadian Publishing Holdings Co. Pension Plan for the Employees of Newspapers Formerly Owned by Thomson Newspapers;
Sterling Newspapers Company Pension Plan for the Employees of Newspapers Formerly Owned by Thomson Newspapers;
The Hollinger Canadian Publishing Holdings Co. Plan for Employees Formerly Owned by Sterling Newspapers;
The Journal Publishing Company Limited Employees' Pension Plan.
Any former Local 2000 member who is receiving a pension from one of these four plans is at risk of having their pension reduced as a result of the CCAA process. Please contact Gary Engler at the union office if you are a member of one of these four plans. 
(In addition, two Hollinger management retirement plans are unfunded. These are: The HCPH Co. Executive Retirement Arrangements and HCPH Co. Divisional Allowances /Top-Up Plan.) 
Anyone affected by the Hollinger Canada restructuring should have received a letter from Ernst & Young dated Dec. 18, 2009, informing them of the company's CCAA filing. The letter states that the court has appointed the Toronto law firm Koskie Minsky LLP to represent the interests of over 3,000 former Hollinger employees whose benefits payments may be affected by the CCAA filing. 
Local 2000 is currently planning a joint strategy with our National Union regarding this CCAA filing. Please check this website regularly for updates. 
---
Google and paid content
Tuesday, December 1, 2009 9:35 AM
Posted by Josh Cohen, Senior Business Product Manager 
---
Good news – yes, good news – for newspapers
Canwest newspapers are making money, the circulation slide may be over and newspaper stocks are outperforming the Toronto Stock Exchange, writes Kelly Toughill. Who knew?
Source-http://www.j-source.ca/
Canwest newspapers are making money, the circulation slide may be over and newspaper stocks are outperforming the Toronto Stock Exchange.
Recent news about the Canadian newspaper industry has sparked welcome confusion among those accustomed to charting the demise of ink on paper
After all, isn't news-on-the-stoop an anachronism soon to follow typewriters to the museum? Aren't high-quality newsrooms being sacrificed to the Internet, niche publications and bloggers who have more free time than skill? Yes and no. The newspaper industry is still in peril, but for the first time in a long time, there are also signs of hope.
John Honderich, chair of Torstar Corporation, pointed out recently (during a speech at the 2009 Joseph Howe Symposium) that newspapers are far from money losers, despite the red ink that has washed across the bottom line of most newspaper companies in recent years.
Even Canwest, which filed for bankruptcy protection in early October, has a good-news story hidden in its last quarterly financial statements. The document filed in July shows that Canwest newspapers were still coughing up modest amounts of cash.
The newspaper segment of Canwest Global Communications had an operating profit of $152 million in the first nine months of the company's fiscal year. That is down from the year before, but shows that the company took in more revenue from advertising and subscriptions than it spent on things like reporters, newsprint, computers, sales people and telephones. The red ink showed up after the company paid interest on its huge debt, and after it wrote off the declining value of its operations.
The good news is that the Canwest newspapers themselves are still viable businesses, if they aren't forced to service a huge debt as well as cover their own costs. According to Honderich, every single newspaper in the Canwest chain is showing an operating profit, with the exception of the National Post.
The Torstar financial statements tell a similar story, with an operating profit of $20 million in the newspaper segment in the first six months of the year.
Maybe that's why investors seem to be turning back to newspaper companies after deserting the sector.
Canadian newspaper companies have outperformed the S&P/TSX 60 substantially over the last three months. Torstar stock is up roughly 50 per cent. Quebecor is up 30 per cent. Even Canwest's penny stock briefly rose faster than the S&P/TSX 60, before it filed for bankruptcy protection and halted trading.
The most interesting and important news is what has happened to readership and circulation.
The most recent Nadbank study shows that newspaper readership is largely stable and that online newspaper readership is up 10 per cent.
But the bigger story is in circulation.
An analysis by Ken Goldstein, president of Winnipeg's Communications Management Inc., suggests there may be a natural floor that newspaper circulation won't fall below.
In 1950, as many daily newspapers were sold in Canada as there were households in the country. Even though circulation continued to grow for four more decades, it didn't grow as fast as the population. By 1990, the paid circulation of Canadian newspapers was only 60 per cent of Canadian households. Today it is less than 40 per cent.
The big question is whether circulation will decrease forever, until newspapers disappear, or will there be a natural leveling off where newspaper circulation will stabilize?
Goldstein segregated the results of English language and French language newspaper circulation. He found that the circulation of French language newspapers dropped further than English language newspapers, but then it leveled off.
French language newspapers in Canada have held their market for 10 years, selling roughly as many newspapers as 30 per cent of the households in Quebec every year since 1999. Goldstein suggests the same phenomenon might be seen in the rest of Canada soon.
The good news of operating profits, higher stock prices and circulation stability do not point to a solution for the crisis. The problems are very severe. Goldstein's study also shows continuing declines in newspaper revenues. But the good news does inject a bit of hope into the debate over how to forge a new business model for public service journalism in the 21st century.
Kelly Toughill is an associate professor in the School of Journalism at the University of King's College, Halifax and a contributing editor for the J-Source Business of Journalism J-Topic.
 
---
GRIEVANCES/ ARBITRATIONS/ ISSUES as of THURS. OCT. 1, 2009 
click here to go to our GRIEVANCES/ ARBITRATIONS/ ISSUES page 
---
Unions as relevant as ever
Posted: September 22nd, 2009 | Author: blunz |
source http://glogg.org/log/The predictable onslaught of anti-union articles about the crisis at the Chicago Sun-Times has already started. My favorite is the one that contends the paper deserves to die because ungrateful Guild members rejected sweeping concessions demanded by a potential buyer. Why aren't they happy just to have a job? 
Many of those Guild members won't have jobs even if they do accept the concessions, so the more relevant question for us has to be what kind of contract they'll have. The Guild has negotiated concessions all over the country during this bleak period, with no two resulting agreements alike. Our goal has been to bargain what is needed, given the reality of the particular situation. 
So why, then, would multiple bargaining units in two separate locals vote four-to-one  not to accept the concessions demanded by Jim Tyree, a Chicago billionaire and power broker who is making noises about buying the Sun-Times? Tyree's deal was put forward on a take-it-or-leave-it basis, but the specifics weren't disclosed for weeks–and then it turned out he was demanding much more from the Guild than from any of the other Sun-Times unions, raising questions about why someone claiming to be union-friendly insists on gutting the Guild. 
At the core of the disagreement are severance and job security, which under Tyree's ultimatum would be negligible. The gun-to-the-head proposal comes amazingly close to employment-at-will, with all employees vulnerable to being tapped on the shoulder and asked to leave at any moment. But Tyree, in numerous interviews, has explained he needs complete "flexibility"–that without such carte blanche he might have to meet with union representatives to do what he wants. Which, when you think about it, is a strange point of view for someone who claims to respect unions and who also invests a lot of union money in his core business, at Mesrow Financial. 
In truth, the Guild has had many conversations with Tyree and his representatives, working diligently toward that elusive balance between management flexibility on one hand and workplace protection and  dignity on the other. But because we won't agree to "complete flexibility" on a take-it-or-leave-it basis, we're accused of arrogance while Tyree publicly laments that after working for six months and spending half-a-million dollars in putting together his bid he should be able to get everything he wants. 
Compare this one-sided approach to recent events in Portland, Maine, where the Portland Press-Herald and three other media properties were sold in a package that includes an employee stock ownership plan. More than a year of negotiations resulted in employees exchanging significant workplace and wage concessions for an equity stake in the company, while their  unions won seats on the board of directors. Among the happy results: a recent round of buyouts may make layoffs unnecessary. Joint labor-management committees meet regularly to improve the product and to revitalize the business model. 
Critics of newspapers and other traditional news organizations claim that newspaper people have only themselves to blame for the current mess. There is some truth in this. Many newspaper organizations have been rigidly hierarchical, their lack of flexibility entrenched by years of fat profits. But when all that ended, with ad revenue migrating to the internet and the economy plunging into recession, the reflexive response too often was to shed front-line workers. Few of the critics, meanwhile, have questioned the vitality of a business in which all wisdom comes from on high while creative front-line workers are regarded as commodities. Those businesses are doomed to failure. Portland, on the other hand, is an attempt to try something different. 
Sadly, things don't feel all that different at the Sun-Times. 
All mass media are rapidly restructuring, for better and for worse, and no one really knows what success will look like. But I'll venture that whatever it is, it'll come from the "creatives" who actually gather, edit and disseminate information–the ones getting kicked out the door by people with too much money and not enough sense. 
So contrary to what our critics say, the Guild is not trying to hang on to the past–precisely because it's mired in that self-defeating, top-down mentality. We're more interested in building the future. We're prepared to be flexible and to help management succeed. We believe there is still value in news organizations that have a critical mass, enough to provide quality news. We also know that smaller products and independent journalists have a vital role to play. Our goal is to follow the work and to advocate for those workers who provide quality content. 
So when you see those stories that castigate the Guild for being hidebound and unwilling to change, don't believe them. Instead, take a hard look at the facts and decide whether something new is being created, or whether it's just one more attempt to perpetuate the old, unsustainable model. 
And let's hope that reasonableness prevails at the Sun-Times. We're all in this together. 
---
Times Colonist/Canwest Wasting Money
As Guild Wins Unpaid Leave Of Absence
 March 31, 2009 
Arbitrator Stan Lanyon has ordered that an editorial deskperson will be able to start his one month unpaid leave of absence effective April 1st, 2009
The Arbitrator gave this brief ruling with full details to follow in his written decision.
 
The member is pleased with the ruling as is the Guild with the Arbitrator upholding the provisions of our collective agreement.
 
During these difficult financial times for Canwest, the wasting of Times Colonist profit (and Guild money) on an unnecessary arbitration flies in the face of sound financial practices. 
We will report more details when they become available. 
---
Guild Forced To Arbitration
Over Denial Of An
Unpaid Leave Of Absences
Wednesday, March 4, 2009 
On March 11, 2009, the Guild will be representing, 
at Expedited Arbitration, a Guild member who was denied a 
one-month unpaid leave of absence. 
The decision by local management to deny this unpaid leave of absence is in direct violation of 
Article 15, Section 1 of our contract 
and a past arbitration won by the Guild. 
The member's request for an unpaid leave of absence for the month of February, 2009 was made on November 25, 2008.  At the time of the request only one other member of the department was scheduled for time off in the month of February, 
and that was for just two days. 
The Guild is at a loss to understand why local management is prepared to throw away Company money (as well as ours) on this Arbitration; this decision flies in the face of a memo recently issued to all CanWest newspapers by President & CEO, CanWest Publishing, Dennis Skulsky, and Executive VP & Chief Financial Officer, CanWest Publishing, Doug Lamb, to grant unpaid leaves of absence requested by employees as a 
cost-savings measure. 
The Guild finds this attitude by local management cavalier and odd in these difficult financial times for CanWest. 
---
Canada's Newspaper Readership High, But Not on the Web
By Jennifer Saba – Source: Editor and Publisher
Published: March 25, 2009 11:31 AM ET
 
NEW YORK Almost 75% of Canadian adults read a print edition of a newspaper each week, according to the Newspaper Audience Databank (NADbank).
However, online readership is still very small. Only 4% of adults read newspapers online exclusively. Less than 20% of adults read a newspaper online during the week, a 13% increase over 2007.
The total reach of newspapers — print and online — in Canada is 77% on a weekly basis.
NADbank conducts readership studies on behalf of Canadian newspapers, advertising agencies, and advertisers.
As in the United States, more adults tend to read newspapers in smaller markets. NADbank reported that highest weekday readership of newspapers is in Cape Breton.
In the top 10 Canadian markets, Winnipeg has the highest readership.
Online newspaper readership is highest in Halifax: 30% of adults in that market have read a newspaper Web site each week. In Toronto, 23% of adults have read a newspaper Web site each week.
The Toronto Star — both print and online — reaches the most adults in Toronto weekly at 49%. Thirty-eight percent of adults in Montreal read Le Journal de Montreal on a weekly basis, more than any other newspaper in that city. The Ottawa Citizen reaches 49% of adults weekly in Ottawa-Gatineau. And in Vancouver, The Province narrowly beats the Vancouver Sun with 47% of adults reading the former. The Sun reaches 45% of adults.
A previous version of this story said La Presse had the highest total weekly readership.
 
---
It's Not Newspapers in Peril; It's Their Owners
Dailies Still Make Good Money, but Debt-Laden Publishers Post Losses
Read entire story here  Article Soucre – adage.com
---