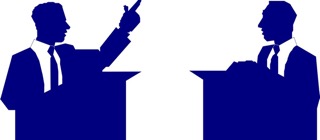 The two contenders for presidency of The NewsGuild-CWA will square off Saturday in a live online debate, in which CWA Canada members can participate.
Members can submit questions both before and during the debate, which begins at 6:30 p.m. EDT on Oct. 26. It will be moderated by Larry Cohen, a former president of the Communications Workers of America (CWA), assisted by Howard Stanger, a labour educator at Canisius College in Buffalo, N.Y.
Send questions in advance of the debate by noon Friday, Oct. 25, to Cohen at larrycwa@gmail.com. Be sure to include your name and union Local.
The debate comes just over two weeks before in-person voting at Locals (between Nov. 12 and 17) in a re-run election for president of TNG-CWA.
The union's election committee decided in August that the spring contest between Jon Schleuss and incumbent Bernie Lunzer had to be re-run after determining that hundreds of members had been effectively disenfranchised when mail-in ballots were sent to out-of-date addresses.
Candidate websites
Each Local determines whether to conduct in-person voting or have their members receive ballots in the mail, which have to be returned no later than Dec. 9.
Members who want to sit in on the debate need to register in advance at https://zoom.us/webinar/register/WN_AgCVXSyTT4KZDxlS7m8y7Q . Registrants will receive a confirmation email containing information about joining the webinar and how to submit questions. A camera or microphone is not required to view the debate, although sufficient bandwidth is necessary.
A recording of the debate will be posted on the NewsGuild's website soon after the debate ends.
Rules governing the election are also available on the website.